What we know, the latest news, what to look out for, and what to expect from Bond 26 in the coming months.
Spanning six decades and 25 exhilarating films, the James Bond series continues to mesmerize audiences with its seamless blend of heart-pounding action, gripping espionage, and timeless allure. As the anticipation builds for the next thrilling chapter, the media landscape has become awash with speculation and rumours, leaving fans yearning for authentic updates.
Director: TBA
Screenplay: Neal Purvis & Robert Wade *
Producers: Barbara Broccoli & Michael G Wilson *
Cinematography: TBA
Production Designer: TBA
Costume Designer: TBA
James Bond: TBA
Production start: 2024 at the earliest
Release date: TBA
* Broccoli has said that she expects Purvis and Wade to be involved early in the writing process. That assumes Eon Productions holds on to its share of the Bond film rights. If Wilson retires they may instead decide to sell up to Amazon.
Latest Bond 26 news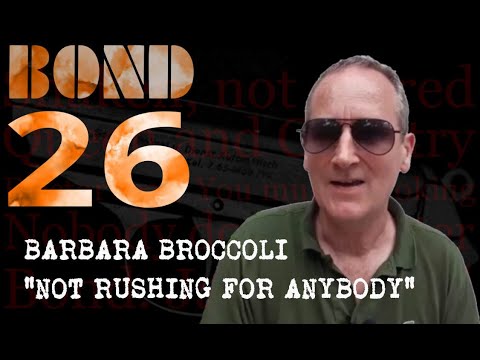 Below are the three latest stories on Bond 26. More stories are at the bottom of the page.

Welcome to The James Bond Dossier's dedicated hub for the latest Bond 26 news – a sanctuary amidst the noise. Here, we strive to separate fact from fiction, presenting unconfirmed reports when they appear to bear a semblance of truth; or, occasionally, to debunk them outright – such as the July 2023 "news" story by the Times of India claiming Sam Mendes had turned down Bond 26.
The website included quotes from a 2013 interview with Empire, when Mendes was still reluctant to direct what would eventually become SPECTRE – absolutely nothing to do with Bond 26 at all.
Join us as we make an educated guess as to the expected timeline for Bond 26. When to expect announcements about a director and, of course, the highly coveted casting of the next actor to embody 007. Best advice: don't hold your breath.
Currently little is known about Bond 26. Barbara Broccoli and Michael G Wilson are notoriously shy of publicity and do few interviews. And in the few they have done recently they have said very little. Back in 2022 though, she offered a few meagre pointers when talking to the media on a number of different occasions.
There isn't a script and we can't come up with one until we decide how we're going to approach the next film because, really, it's a reinvention of Bond. We're reinventing who he is and that takes time. I'd say that filming is at least two years away.
Barbara Broccoli, June 2022
What we know
We don't currently know much about Bond 26 at all. But these are the details that we do know.
When will Bond 26 be released? Bond 26 is "going to be a couple of years off", according to Broccoli in 2022. That's a pretty vague statement and would imply it goes into production in 2024 at the earliest. Eon won't announce a firm Bond 26 release date until there is some real movement on the film, but Broccoli's statement would mean Bond 26 in 2025 at the very earliest.
While Amazon might wish to speed things up and apply pressure on Eon to move faster, Sony also tried the same thing to no avail. Eon works as fast as Eon works.
Note: the Writers Guild of America has been on strike since the beginning of May 2023 and were joined by the main actors union mid July. This is likely to slow down any progress on Bond 26. It is unknown if any work has been done on the script so far but it is almost certain that if a script was in progress it is now frozen.
If the script has not been started then even with a director  on board there will be a delay in getting a writer to work. And the project may even have difficulties getting a director to sign up until the strike is over anyway.
What can we expect from Bond 26? The producers need to work out what they want to do with the series after Daniel Craig. Much in the way they decided to steer the films in a different direction following Die Another Day, they are going through a similar process now.
Craig's films were much grittier than what went before. While it's not true that they have no humour they did move away with the more light-hearted tone of Pierce Brosnan's films and de-emphasised the gadgets. Will they decide to make the films more light hearted again? Or at least less serious. That's a decision for the producers right now.
No Time to Die saw the death of James Bond, so we also need to see how they resolve that problem. We'll talk about that below, but the filmmakers do have a number of different potential solutions.
Who will be cast as the new 007? Only after they have decided what the series is going to look like going forward will they have an idea of what type of actor they need for the lead role. They will cast a new actor to play James Bond based on his own strengths, depending on the direction and tone of the new films.
They are also likely to pick a director before selecting a new James Bond, as they did with Casino Royale in 2005. In February 2005 Eon Productions announced the next film was to be Casino Royale and would be directed by  Martin Campbell. Daniel Craig was announced as the new 007 in October the same year.
Broccoli also said that playing James Bond is a 10 or 12 year commitment. Based on Eon's current output that would likely equate to three films, although speaking with The Empire Film Podcast, she said four or five films.
So we could be waiting until late 2023 for any news on the director and the second half of 2024 for the new actor to be announced.
Who will write Bond 26? Broccoli has said that Neal Purvis and Robert Wade are likely to be hired initially to work on the next film. Screenplays are almost always collaborative so they are unlikely to be the only writers involved. New writers are often hired to sort out specific script problems, such as dialogue or structure.
Phoebe Waller-Bridge was brought in quite late to work on No Time to Die and there have been reports that Eon would like to work with her in the future. Tabloids reported that she was in the running for director, but that never made any sense as she lacks directing experience. She later denied the tabloid rumour, saying that she had only ever directed a music video – weirdly enough, for the song Savior Complex by Phoebe Bridgers. She does have experience as a writer, actress and producer though.
What other crew members can we expect? There are a number of crew members who are part of the Bond family who are likely to be involved on Bond 26. Chris Corbould is known for his expertise in creating and coordinating practical effects, stunts, and action sequences for the Bond films. Debbie McWilliams has been the casting director beginning with GoldenEye and throughout the Daniel Craig era. Her role involves selecting actors for various roles, including the all important starring role, and shaping the ensemble cast for each film. Given her experience with 007 it is likely she'll return. And Daniel Kleinman's longstanding involvement and creative impact on the James Bond franchise means he is likely to bring his visionary talent to create the title sequences for Bond 26.
On the other hand there are a few unknowns too. Dennis Gassner worked as production designer on Quantum of Solace, Skyfall and SPECTRE. However, Mark Tildesley was brought in by Danny Boyle for No Time to Die and remained on board after Boyle left the project it is possible he will be asked back. And the position of costume designer has been a revolving door over the last few films, with long term costume designer Lindy Hemming giving way to Louise Frogley for Quantum of Solace, Jany Temime holding the reigns for Skyfall and SPECTRE, and Suttirat Larlarb taking over in No Time to Die. It's difficult to predict what will happen there. And no cinematographer will be chosen until a director is on board.
While many fans applauded the decision for Hans Zimmer to provide the music for No Time to Die, others were unimpressed by his rather generic action score with the use of cues written by John Barry and David Arnold. He came on board late after Dan Romer left due to creative differences.
Anyway, we'll take a look at all this in more detail and some other things to consider in the article below.
Casting the next James Bond
The casting of James Bond is always a highly anticipated event, and for Bond 26 the filmmakers must select an actor to take on the iconic role of the next James Bond.
With the end of Daniel Craig's tenure as James Bond, it's time for a new actor to step into the spotlight and bring their own style to the character. The need for a new actor is driven by the natural progression of the franchise, as each film aims to bring a fresh take on James Bond and introduce the character to new audiences.
How far they are along that process is open to conjecture as it is something they like to keep under wraps and no reliable information has yet been leaked.
The media, particularly in the UK, has pushed a number of potential candidates for the next James Bond actor. Some have speculated that a lesser-known actor could be cast, allowing them to bring a fresh perspective to the role. Others have proposed that an established Hollywood star, such as Tom Hardy or Idris Elba, could take on the mantle of James Bond. However, there is usually little behind these stories other than to generate pageviews for advertising.
It's important to note that when it comes to casting rumours and speculation surrounding the next James Bond actor, media reports are extremely unreliable. In the past, many false reports and rumours have circulated, leading to confusion and disappointment among fans.
The official announcement of the next Bond actor will come from Eon Productions, although usually news gets out beforehand from trusted sources. Therefore, it's always wise to take any unconfirmed reports with a grain of salt before getting too excited about potential casting news.
The James Bond Dossier will help sort the wheat from the chaff when it comes to reports in the media on any aspect of Bond 26. Nevertheless, the speculation surrounding the next Bond actor adds to the excitement and anticipation for the upcoming film.
Resolving Bond's death
At the end of No Time to Die James Bond finally met his demise, leaving fans wondering how the franchise would continue. Despite the ending the credits promised James Bond Will Return!
The death of James Bond presents a unique challenge for the franchise, as the series has never before had to deal with the death of its main character.
There are a number of different options, one of which is to simply ignore what happened in No Time to Die and simply introduce the new James Bond in a stand alone adventure. Another would be to reboot Bond again and find out how he became Bond. This is less likely as we've just been through this story arc with Daniel Craig but both these options would see the new 007 in a different universe and timeline to Daniel Craig's.
A less likely possibility could be the introduction of a new character who takes on the mantle of James Bond, either as a relative or a protégé of the original character. This is essentially the same as the "code name theory" of James Bond. Another solution to resolve James Bond's death could be through the use of flashbacks or dream sequences, allowing the audience to see Bond's adventures from a different perspective. Or else we find he was never dead, although that poses all kinds of problems of a different kind for the continuity of the series.
Regardless of the solution chosen it will be exciting to see how they navigate this challenge and bring the franchise to new heights with Bond 26.
A new direction
Bond 26 heralds a promising turning point for the franchise, offering a chance to venture into uncharted territories and delve into fresh narratives and themes. While the hallmark blend of action, espionage, and glamour has defined the series, this instalment presents an exciting prospect for the filmmakers to explore innovative paths, introducing novel elements and potentially embracing shifts in tone.
They could return to a similar vein to the James Bond films prior to Daniel Craig, with a focus on classic elements such as high-stakes espionage and larger-than-life action set pieces. Another option could be to take the more grounded, character-driven approach begun with Daniel Craig's films, exploring Bond's personal life and relationships in greater depth. They could combine the two approaches. And they could incorporate new elements into the series, such as technology or global politics, to keep the franchise fresh and relevant. The producers have never been sky of reinventing the franchise when they've felt it needed freshening up.
In the Daniel Craig era the films have leaned towards a more serious and grounded tone but depending on the actor chosen they may decide on a more light-hearted approach, or even incorporate elements of both. The choice of tone will play a major role in determining the overall feel of the film and shaping the future of the franchise.
The choice of direction for the franchise is significant, as it will determine the future of the James Bond series for years to come. The filmmakers must carefully consider what direction will not only entertain audiences but also maintain the legacy of the James Bond franchise. The future of the franchise rests on their ability to strike the right balance and create a film that appeals to both die-hard fans and new audiences.
Changes at the top
As we look ahead to Bond 26, there are lingering questions about the production and leadership of the film. For years, Eon Productions, spearheaded by Michael G Wilson and Barbara Broccoli, has been at the helm of the franchise. However, Wilson, who has played a pivotal role in shaping the series, turned 80 in 2021 and has openly expressed the physical toll the films have taken on him.
Wilson's immense contributions to the franchise over the years cannot be understated. From his involvement since Goldfinger to his various roles, including as a writer, he has left an indelible mark. Yet, there comes a time when one may feel the need to step back or retire, and Wilson may be considering a smaller role or complete retirement. It goes without saying that he has earned such a decision. However, the impact of his potential departure on Barbara Broccoli is uncertain.
Together, Wilson and Broccoli have been the driving force behind every film since Goldeneye, displaying a remarkable partnership. While Broccoli has often represented the face of Eon, the dynamics behind the scenes may differ, and her role could be affected without Wilson's presence.
While it remains uncertain and there may be contingency plans in place, such as Wilson's son Gregg assuming a more prominent role, the implications of Michael G Wilson stepping back from Eon Productions are significant. This could not only affect Bond 26 but also shape the future direction of the entire series.
Adding another layer of complexity, there is the possibility of Broccoli and Wilson deciding to sell their Bond interests altogether. With Amazon's acquisition of MGM in 2022, the streaming giant now holds a 50% stake in the franchise, making it a likely candidate for a potential purchase. The entrance of Amazon as the new owner would bring substantial consequences for the future of the James Bond franchise.
As a corporate powerhouse with vast resources, Amazon has the financial capability to buy out Eon Productions. Moreover, they possess the potential to steer the franchise into uncharted and exhilarating territories. However, with new ownership comes a fresh set of creative and business objectives, which could lead to significant changes in production, marketing, and distribution. This departure from Eon's established approach would undoubtedly have a profound impact on the franchise.
Ultimately, any shifts in ownership or leadership within Eon Productions will send ripples throughout the James Bond franchise. The films' tone, style, and direction could all undergo transformations, as well as the marketing strategies and release schedule of future installments. The precise implications and the release date of Bond 26 remain uncertain, adding to the intrigue and anticipation surrounding the film.
Final thoughts
As Bond 26 approaches, the James Bond franchise stands at a critical juncture that will shape its future. The selection of a new actor to fill the iconic role, the resolution of James Bond's demise, and the creative direction chosen for the franchise will all wield significant influence over its trajectory. These decisions carry immense weight, as they will reverberate throughout the series for years to come.
Yet, despite the challenges that lie ahead, the air is charged with palpable excitement and anticipation surrounding Bond 26. Devoted fans eagerly await the revelation of the next James Bond, the resolution of the character's death, and the path the franchise will tread. Possibilities abound, and the future of the James Bond franchise holds limitless potential, igniting fervor among enthusiasts like never before.
Throughout its illustrious history, the James Bond franchise has stood as an enduring and cherished pillar of cinema. Its captivating blend of action, espionage, and allure has enthralled audiences for generations. With Bond 26, the franchise has the opportunity to uphold this legacy and soar to unprecedented heights. Whether it chooses to honour the classic Bond formula or chart an entirely new course, one thing remains certain: the future of the James Bond franchise promises excitement, intrigue, and an unforgettable journey.
---
Bond 26 news
---
No Time to Die | James Bond Will Return