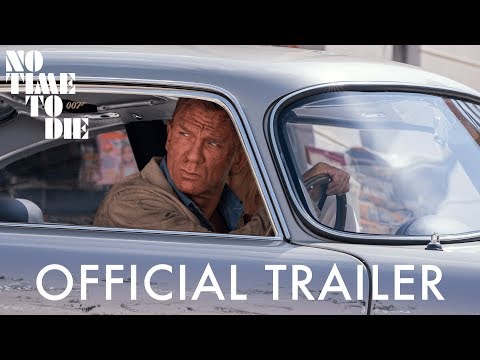 The film that was eventually to be titled No Time to Die experienced a rocky path from the start. Initially Daniel Craig was reluctant to reprise the role of James Bond but once he agreed to return things got into motion.
However, a change of directors initially led to the film being delayed from late 2019 to February 2020 and then to April. Then just as the film's promotional campaign began in earnest and the premiere finalised things suddenly ground to a halt thanks to the spread of COVID-19 in Europe and soon after  much of the world shut down in response to the pandemic. That resulted in several further delays while the world lived through the pandemic with various dates announced along the way.
No Time to Die was finally unveiled to the world at the world premiere held at London's Royal Albert Hall some 18 months later. When the film finally opened the reaction was mixed thanks to the controversial ending and most fans were caught off guard. It was quite an achievement to keep under wraps for so long and Eon must have been dreading that the finale was leaked each time they further delayed the release.
No Time to Die synopsis
No Time to Die continues directly where SPECTRE left off. James Bond and Madeleine Swann are in Italy following the events of the previous film. Despite Blofeld being behind bars he is able to get to Bond all the same and he soon finds out their tentacles reach everywhere.
Five years later Bond has retired to Jamaica and enjoying his days sailing and fishing. When Felix Leiter recruits him to rescue a kidnapped scientist in Cuba Bond once again comes up against SPECTRE but watches as a DNA targeting bio-weapon is used against the organisation's members.
Back in London he tells M what he has learnt only to find out how M is implicated in the Herecles bio-weapon project. He meets an old friend and confronts an old enemy before coming face to face with a new enemy threatening his very own flesh and blood.
What we say
There is plenty to enjoy in No Time to Die, with some great locations, performances and action and technically it is brilliant. The pre-titles sequence in Italy works really well as do the scenes set in Jamaica and then Cuba. The car chase ending in the forest also work well. But overall the film is too long and the villain isn't particularly memorable.
But once again in the Daniel Craig era the London scenes take up far too much screen time and Blofeld may as well have not been in the film. After finally getting the rights to use Blofeld from the estate of Kevin McClory he was dispatched after just two films and was never a worthy adversary for Bond.
Finally, the music is really disappointing. Reusing John Barry and David Arnold cues just isn't good enough. Why reuse David Arnold's music when he could have been hired to compose a completely new score?
Production
Daniel Craig had been somewhat ambivalent about reprising his role as James Bond prior to No Time to Die. After completing work on SPECTRE in 2015, he famously stated that he would rather "slash his wrists" than play Bond again.
However, Barbara Broccoli eventually persuaded him to return for one final film as the iconic spy. He confirmed his return on 15th August 2017 during an appearance on The Late Show with Stephen Colbert. Craig had brought a new level of depth and nuance to the character of James Bond and the news was greeted with excitement from fans eager for him to return as the iconic spy and widely covered in the media.
Early development
Neal Purvis and Robert Wade were initially hired by Eon Productions to write the script for what would become No Time to Die. However, their script was later discarded after director Danny Boyle joined the project.
Danny Boyle approached Eon with a story outline developed with his long term writing partner, John Logan. The Trainspotting director had previously directed a segment for the 2012 London Olympics with Daniel Craig as 007 and Queen Elizabeth II. After weeks of speculation about his involvement, Boyle confirmed he was working on the film in March 2018, which was only confirmed by Eon in May.
Boyle's involvement in the project was seen as a bold move by Eon, as he was known for his unconventional and visually stunning filmmaking style. Many fans of the franchise were excited to see what Boyle would bring to the Bond franchise, and his hiring was widely covered in the media.
Production was due to start in December 2018 with the film's release scheduled for late October 2019.
Pre-production work progressed, including an elaborate set built in Canada. However, on 21st August 2018 Eon Productions issued a shock statement. Boyle had left the production due to creative differences.
Initial reports suggested they were aiming to quickly replace him and stick to the already announced timetable, but that always seemed unlikely. They did move fast though and on 20th September Eon announced Cary Joji Fukunaga had been signed to direct.
Cary Fukunaga joins Bond 25
At the same time as confirming Fukunaga they also confirmed a delay. Production was now scheduled to start at the beginning of March 2019 with the film opening on Valentine's Day 2020.
But while the film now had a new director there was no script. So back on board came ever-trusty Purvis and Wade to work with the director on finalising a script. Out went some ideas, leading to the abandonment of the set built in Canada, and a new script was written to use the sets that had already been constructed at Pinewood.
Scott Z Burns was brought in to work on the script in early 2019, although he was eventually uncredited. And Phoebe Waller-Bridge was added to the writing roster at the suggestion of Daniel Craig to polish the script, flesh out the characters and add a fresh perspective.
While there was no confirmation from Eon, it was widely rumoured that filming would now start on 4th March. In the end the first signs of anything solid happening took place in Norway. There Fukunaga and a film crew shot for five days at the end of March in an area near a wooden house beside a frozen lake built specially for filming.
Finally, on 25th April 2019, the project officially kicked off with a live event streamed from Goldeneye in Jamaica, where Ian Fleming had written all his James Bond adventures. Daniel Craig was there with the producers and director and numerous cast members were introduced to viewers from around the world. Filming officially commenced on 28th April in Port Antonio on the north shore of Jamaica.
Production incidents
During filming in Jamaica Daniel Craig suffered an ankle injury, which required the rescheduling of many scenes while he recovered. The accident took place on his last day of filming in Jamaica.
An explosion on a set at Pinewood received widespread media coverage. The explosion was deliberate but apparently too powerful as it resulted in some external panels being blown off the stage but thankfully no one was reported to be seriously injured in the incident, and filming resumed soon after. The incident was investigated by Health and Safety but no action taken against the filmmakers.
COVID-19 Pandemic
No Time to Die was originally set to premiere in March 2020, but was delayed due to the COVID-19 pandemic. The film was one of many productions impacted by the pandemic, which caused widespread disruption in the film industry and led to numerous delays and cancellations.
The decision to delay No Time to Die was made a few weeks before its original release date, as the global situation regarding the pandemic continued to escalate. At the time, many countries were starting to implement measures to contain the spread of the virus, including closing theatres and limiting public gatherings.
Given the uncertainty surrounding the pandemic and its impact on the film industry, the producers of No Time to Die decided to delay the film's release to ensure that it could be seen by as many people as possible in a safe and secure environment. In the end that proved to be a wise move since the UK and many other countries went into lockdown just days later. The film was eventually released in September 2021, some 18 months after its original premiere date following two further delays due to the pandemic.
The delay was a disappointment for fans of the Bond franchise, who had been eagerly anticipating the film's release. However, the safety of audiences and the impact of the pandemic on the film industry were considered to be of paramount importance, and the decision to delay the film was generally supported by both fans and industry professionals.
Principal cast & crew
Release
World Premiere: 28th September 2021 at the Royal Albert Hall
UK Release: 30th September 2021
US Release: 8th October 2021
Dossier on No Time to Die
Locations
As is usual for the Bond films, shooting took place in numerous locations across the globe. Some of the key locations for filming included the United Kingdom, Italy, Jamaica, and Norway.
Jamaica, where Ian Fleming wrote all the Bond books, was used as a filming location to represent the character's spiritual home. It was here than Bond had retired after retiring from his life as a double-O agent.
The film's UK base was once again Pinewood Studios, with location in London and other locations across the country, while in Italy, the production team filmed in Matera, Gravina and various sites along the coast near Sapri.
In addition to these locations, the production team also filmed in Norway, taking advantage of the country's stunning natural landscapes and a unit was sent to shoot in the Faroe Islands for several days.
The use of a variety of filming locations was a key aspect of the production, as it allowed the filmmakers to capture the diverse cultures and environments that are an integral part of the Bond franchise. The different locations also provided a backdrop for the film's spectacular action sequences.
Read more about No Time to Die's filming locations
Drinks
Among No Time to Die's numerous official partners were three drink brands. While not easily  identifiable in the hotel scene in Matera, Bollinger once again returns.Bond swigs from a Heineken bottle in the Jamaica nightclub scene, with Logan Ash sticking to the alcohol free version. No wonder he was untrustworthy. And when Bond and Paloma drink vodka martinis at the bar in Cuba it is made with Smirnoff vodka.
As well as those "official" brands he also drinks Blackwell Rum, Johnny Walker Black Label scotch, and a glass of Q's Château Angélus in London.
Read more about the drinks of No Time to Die
Cars
A number of different cars appear in No Time to Die, including four different Aston Martins. Although much was made of the Aston Martin Valhalla during filming, it was relegated to a blink or you'll miss it role in the end. Bond drives his DB5 and a 1987 V8 Vantage while the DBS Superleggera was driven by Nomi.
In Jamaica Bond's wheels were a battered Land Rover Series III and when running from Logan Ash's men in Norway he drives Madeleine's old Toyota Land Cruiser Prado. The pursuers show the off-road capabilities of their Range Rover Sports SVRs and V8 Land Rover Defenders. Bond also rides a Triumph Scrambler 1200 XC in Matera.
Read more about the cars in No Time to Die

SPECTRE | James Bond Will Return
Share this article